Rail stations
Every journey starts at the station.
We have developed a focused range to benefit every type of traveller as they make their way through your station, from external plazas, PRM lounges and platforms, we have a product for every application.
Built to withstand the toughest environments, we help you to reduce your environmental impact and provide a better return on investment through longevity.
Durability & maintenance
We understand the high level of use that furniture gets in a busy transport terminal and offer a maximum return on your investment though our design. A common chassis allows a full change of specification. Technology is future proofed with all new innovations being designed for retrofitting.
Increased passenger wellbeing
Our expert design team are on hand to advise on the best way to integrate our furniture with your built environment. Bespoke layouts are proven to improve passenger wellbeing, reduce congestion and increase retail footfall.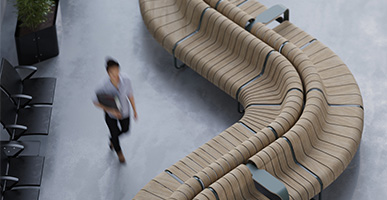 The key to improving passenger wellbeing starts with improving the passenger flow, reducing congestion and in turn creating more useable spaces.
Integrated technology provides easy access to touchpoints, such as intelligent charging and information displays screens. This decreases stress levels as passengers can relax whilst using the space for longer.
Sustainability
We are committed to reducing our environmental impact by focusing on materials, life in service, and reuse.
Our products are designed specifically for high use applications and our full product range carries a 25-year warranty, the longest in the sector.
Increase retail footfall
Using dynamic layouts we give passengers a 360° view of the built environment, encouraging retail foot fall. Our studies show an average 5% increase in revenue.
Rail station product overview